GREAT NEWS!!! EVENT FULL at 12 noon time slot. New Time slot at 1PM opened up! (effective 4:14pm pm 4/8/21)
Members and Non-members all welcome!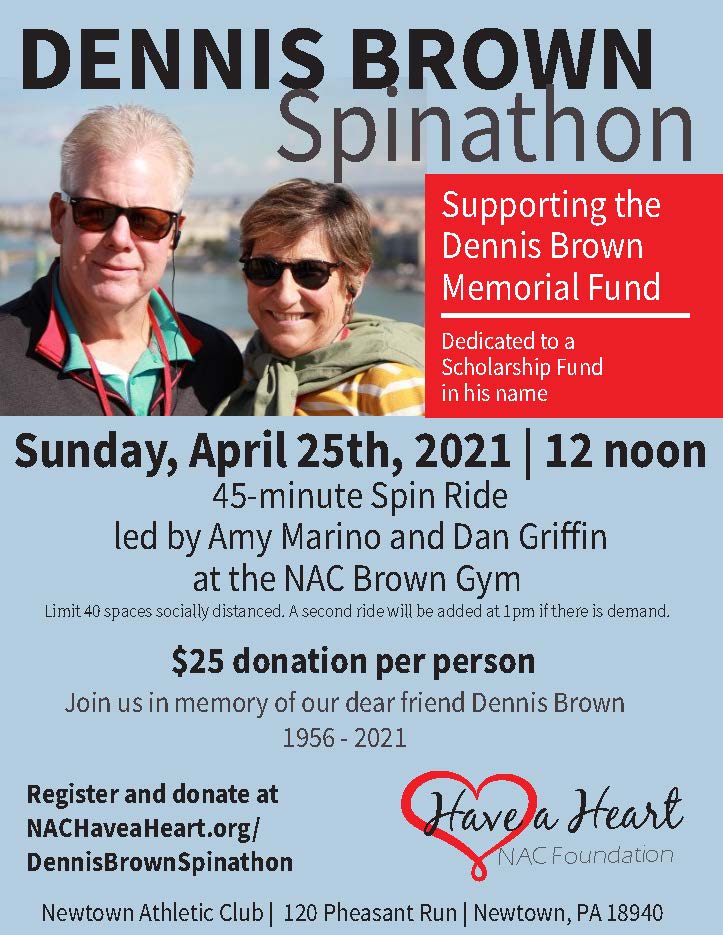 Questions:  Linda Mitchell at linda@newtownathletic.com or 215-968-0600 x 114
Your donation of $25 automatically reserves you a bike.  If you donate $50, 2 bikes will be reserved, etc.
Please note on the form that this donation is for an EVENT and note that it is the Spinathon.
THE DENNIS BROWN MEMORIAL FUND
On February 19, 2021, Dennis Brown, a wonderful husband father, brother, and friend joined his parents in heaven. Dennis lived his life to the fullest every day. His favorite pastime was to plan gatherings with family and friends. His heart was as big as his personality, full of love, laughter, and happiness.
Dennis served in the US Air Force before he started his career in sales. For the past 21 years he successfully ran his own manufacturing rep business which included his son Nick.
Dennis lived with a drive and passion, always keeping his eye in the rearview mirror, remembering his roots and the many adversities he overcame moving through life. Through this prism, he involved himself in many philanthropic activities, serving many years on the Board of The American Red Cross, participating in numerous charity Cycling events and, most recently, he joined the Bucks County Kiwanis as, yet, another avenue to expend his talent, energy and passion for giveback. As his first project with the Kiwanis Club, he recently co-chaired a very successful golf outing.
The Kiwanis Club has established the Dennis Brown Memorial Fund to continue his legacy of giving back to the community. This fund will be used to set up a scholarship Fund in his name to help deserving individuals in the community. Dennis' brother Steven will be joining the club and assisting in the selection process for these awards.